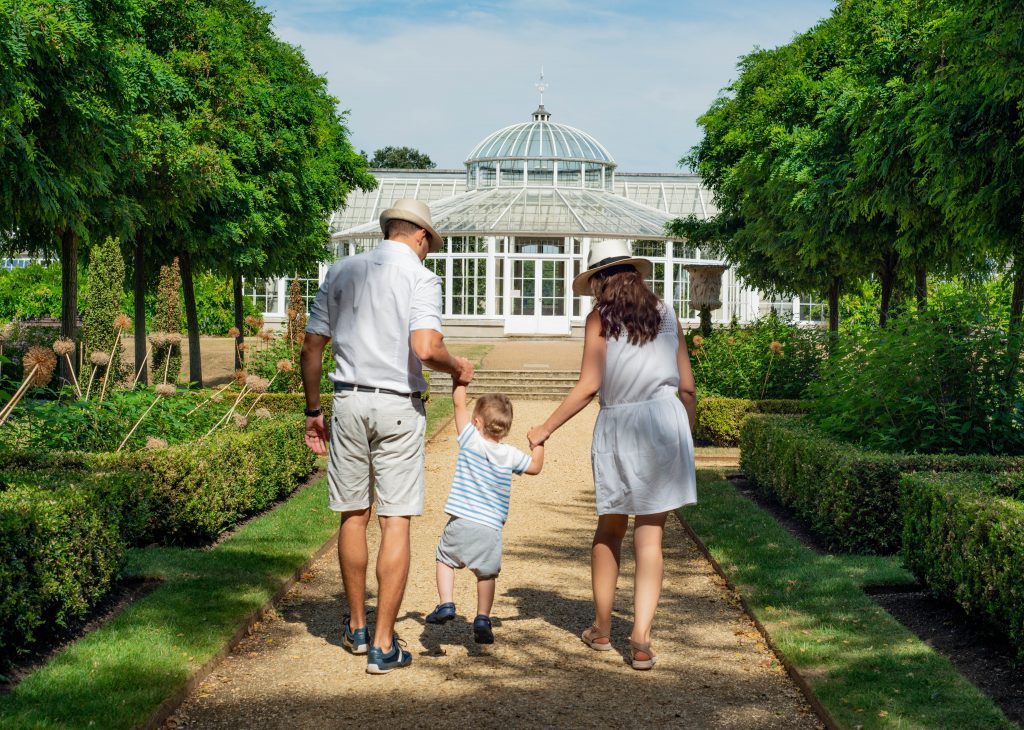 As I reflect on the ways God has used my life to push back against the armies of darkness, it isn't the books I've written that occupy the most space on the shelves of my mind. Nor is it the Bible studies I've taught or mission trips I've taken. It's my sons: Eli, Noble, Judah, and Ezra who shine brightest as the trophies of my life—trophies I almost missed entirely. 
Meet fifteen-year-old me, newly redeemed and brimming with zeal to serve Jesus. The Great Commission became an obsession as spiritual gifts began to form buds on my life. The Christian life felt like signing up for a lifetime of extreme adventure. "Wherever you lead I'll go" became an anthem. With the passion of a young, new believer (and the maturity to match) I declared, "Here I am, Lord. Send me!"
I wanted to teach. I wanted to serve. I wanted to go. 
If you would have asked fifteen-year-old me about starting a family, I would have laughed. I wanted something "more." No ball and chain and babies for me.
As a young woman coming of age in the nineties, I was part of the new normal. My parents separated when I was ten at the pinnacle of divorce rates in America, a sociological, economic, and spiritual tragedy that left a jaded mark on people like me. We saw our parents invest into families that fell apart, and as so often happens between the generations, we pushed and pulled until that pendulum swung the other way. As new generations come of age, it's clear that the pendulum is still out of whack. 
Researchers say:
Nearly forty percent of current young adults don't want to have children. 
Those who want to have kids don't want to start building their families until after age thirty-five. 
Birth and fertility rates are nosediving. Those who are open to becoming parents say they don't want many children. 
The why matters too. Most young adults who plan to live child-free say they don't want to bring children into a broken world. Everything from climate change to an unsteady economy has left many feeling like intentionally foregoing children is a wise and thoughtful decision. This trend has become so mainstream that child-free couples have a moniker: DINK. Dual income, no kids. 
A Misdirected Calling
Though it's tempting to apply selfish motives to the decision to live the DINK life, to do so would be simplifying something that is rarely simple. My husband, Jason, and I did not choose childlessness because we wanted to climb the career ladder, buy a big house, or take elaborate European vacations. Our reasoning sounded more redeemed. We wanted to be untethered so that we could serve the Lord in ministry.
A few Christian friends tried to talk to us about our decision. When we pressed them for biblical proof that all Christian couples are called to welcome children, they mostly fumbled the football. Years came and went. Our home was full of kids from youth group, families who were hurting, women gathered in circles to read God's Word, but we remained resolute in our commitment not to have children of our own. 
Our thinking most needed a realignment in our understanding of calling. "Calling" has become the obsession of the Church today. Most would define it as an individual assignment given by God and affirm that discovering and living out that calling is critical to living a fulfilling life. 
It's true, we do have a calling. We are called to:
Children aren't the only path to living out this calling, of course. Paul never had children of his own. Neither did Jesus for that matter. But Scripture doesn't give us a paradigm for choosing childlessness as a means to live the life Scripture calls us to. (Unless it's a by-product of singleness as Paul describes in 1 Corinthians 7:7–9). Psalm 127:3 (NIV) declares, "Behold, children are a heritage from the Lord, the fruit of the womb a reward."
Children are a gift given by the Lord. They are not a burden. They are not a hindrance to the life God calls us to. They are a blessing, and in my experience God blesses the blessing. Parenthood has become a conduit of so much God-given-good in my life. 
Letting Arrows Fly
The DINKs are right. Our world is desperately broken, but I have come to see that as a reason for embracing children, not a reason to resist them. Few passages have shaped this perspective for me more profoundly than Nehemiah 4:13–14. God's people had been scattered under His judgment. In His mercy, He allowed them to come back to Jerusalem and start to rebuild what their rebellion had destroyed. They started with the wall around the city. As is always the case when God's people are revived, enemies opposed their efforts. To the naysayers, Nehemiah declared, 
So in the lowest parts of the space behind the wall, in open places, I stationed the people by their clans, with their swords, their spears, and their bows. And I looked and arose and said to the nobles and to the officials and to the rest of the people, "Do not be afraid of them. Remember the Lord, who is great and awesome, and fight for your brothers, your sons, your daughters, your wives, and your homes." (Nehemiah 4:13–14 NIV) 
Fight for your families. Fight with your families.Work together to push back the enemies of God. 
When God created mankind to bear His image and declare His rule, He did it through a family. The first command in Scripture was for Adam and Eve to live fruitful lives by bearing children (Gen. 1:28). Post-Pentecost, family is the metaphor for what the people of God have become. We are to continue the multiplicity of our foreparents by discipling spiritual children, yes, but not at the exclusion of birthing and blessing children of our own. 
During a recent conversation with a friend who is in social work she declared, "The family is God's plan for a stable society and a world that works." She added, "And the enemy hates it."
From Hebrew babies thrown to their death in the Nile to the seventy-three million babies aborted each year around the globe (yes, you read that number right), the dark and wicked hand of Satan is ever reaching for children. We showcase the image of the Giver of Life by seeing children as He intends—a blessing. 
Of course it's possible to fight against evil without having children. Our power in this battle comes from the blood of the Lamb and the word of our testimony, not the number of stockings we hang on the mantle each year. But through His Word and by His Spirit the Lord has graciously shown me that my children are not an anchor that keeps me from kingdom work. They are my kingdom work.By God's design, Christian families can be elite military units effectively fighting against the flaming darts of the evil one.
The psalmist didn't stop with warm, baby blanket thoughts about the gift of children. Through the inspiration of the Holy Spirit he encouraged us to weaponize the blessing against the one who is always trying to unravel the good gifts of God:
Like arrows in the hand of a warrior   are the children of one's youth.

Blessed is the man   who fills his quiver with them!He shall not be put to shame   when he speaks with his enemies in the gate. (Psalm 127:4–5 NIV)
Jim Elliott, who surrendered his life to missionary service at a young age, understood that children would not stunt God's plan for His life but secure it when he wrote:
Remember how the Psalmist described children? He said that they were as a heritage from the Lord, and that every man should be happy who had his quiver full of them. And what is a quiver full of but arrows?And what are arrows for but to shoot? So, with the strong arms of prayer, draw the bowstring back and let the arrows fly—all of them, straight at the Enemy's hosts.1
Dear DINK
I can't see you on the other side of my computer screen. Perhaps you are already a mom and this article reinforced the steel rod of resolve in your back to serve the Lord through loving and teaching your children. I'm glad you're here, momma, but I wrote this for another group: those of you who have decided having children just isn't for you. While the younger version of me would affirm that it's possible to make that decision with the best of intentions, the not-so-young version of me would encourage you to open your Bible and dare to ask what God's plan for this part of your life is.
By reading this far, you've tossed me the football. I don't want to fumble it. I don't want to sugarcoat it or oversimplify it either, but I do want you to know that in the gentle way of the Spirit, the Lord changed our hearts, first through foster care and then through our four biological sons. When I think of how different my life would be today if God hadn't blessed me with my children, it makes me shaky. I could have missed it. I could have missed them. It's a tragedy I don't want for your life. Even more, it's a tragedy I don't want for the kingdom. 
Behold, children really are a blessing. As a mom I can tell you it's absolutely true. May you embrace them as the gift they are and let their little lives fly straight into the face of the evil one for the glory of God. 
If this article by Erin has been helpful to you, would you consider partnering with us to provide more resources like this to women desperately in need of finding freedom, fullness, and fruitfulness in Christ? Revive Partners are part of a team of faithful monthly contributors whose gifts make it possible for Revive Our Hearts to produce biblically rich content for women in every season. (Erin is a Revive Partner too!) Learn more by visiting ReviveOurHearts.com/partner. 
1 Quoted in Elisabeth Elliot, Shadow of the Almighty: The Life and Testimony of Jim Elliot (United Kingdom: HarperCollins, 1989) 132.
Republished with permission from Blogs.crossmap.com, featuring inspiring Bible verses about To a Generation of Young Adults Who Don't Want Kids.