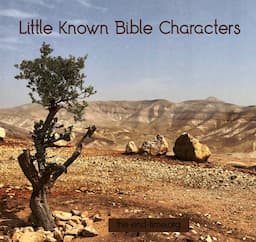 By Elizabeth Prata
Paul made three major missionary journeys. Acts 20 records the 3rd. He had spent 3 months in Greece, then planned to get on a boat in Corinth and set sail for Jerusalem via Syria, but he learned that some Jews were plotting to grab him for nefarious purposes on the voyage, so he decided to return to Macedonia by land. So Paul went from Corinth to Berea, Thessalonica, and Philippi, caught up with Luke again and observed Passover.
From Philippi, Paul and Luke set sail for Troas, arriving there five days later and meeting Paul's traveling companions who had gone ahead of them: Timothy, Sopater, Aristarchus, Secundus, Gaius, Tychicus, and Trophimus. This is where we meet Trophimus.
And he was accompanied by Sopater of Berea, the son of Pyrrhus, and by Aristarchus and Secundus of the Thessalonians, and Gaius of Derbe, and Timothy, and Tychicus and Trophimus of Asia. (Acts 20:4).
Trophimus was mentioned three times in the Bible, in verse above in Acts 20:4, and also Acts 21:29, and 2 Timothy 4:20.
For they had previously seen Trophimus the Ephesian in the city with him, and they supposed that Paul had brought him into the temple. (Acts 21:29).
Erastus remained at Corinth, but Trophimus I left sick at Miletus. (2 Timothy 4:20).
Trophimus was from the Roman province of Asia and was living in or was from Ephesus. He was a Greek Christian. As we saw from the first mention of him in the verse, Trophimus was one of seven disciples mentioned by name who accompanied Paul on his return to Macedonia (Acts 20:3–4), meaning, the others to whom Paul was writing probably knew Trophimus personally, or knew OF him. These seven men formed an envoy from the various churches at Asia. They protected Paul, as it was better to travel in numbers. They also helped deliver the contributions from the churches of Asia to the saints in Jerusalem at the end of Paul's third missionary journey (2 Corinthians 8:2–3). The delegation left Paul in Macedonia and traveled to Troas to wait for Paul and Luke to join them (Acts 20:4–6).
When they met up again, the men, including Trophimus, stayed together for a week. Imagine the theological conversations they must have held! The joy of being together!
Next time we read of Trophimus, it isn't so joyous. We read of poor Trophimus being accused of having gone into the Temple with Paul, which uncircumcised Gentiles were not allowed to do. The Jews at that time were insisting that one had to become a Jew first in order to become a Christian. They leaped on the opportunity to accuse Paul of bringing Trophimus into the temple in order to get to Paul. And they did as much, dragging Paul out to be murdered. Of course, the accusation was false, but Trophimus' name was used for evil purposes and he was innocently at the center of this controversy.
The modicum of fact lying at the root of this false accusation was that they had seen Paul and T. in each other's company in the city. On this slender basis "they supposed" that Paul had brought T. past the barrier or middle wall of partition (Eph 2:14; see PARTITION), beyond which no Gentile was allowed to penetrate on pain of death. They supposed that T., who was neither a Jew nor a proselyte, but a gentile Christian, had been introduced into the temple itself by Paul—which would have been profanation. Hence their fury against the apostle. Source: The International Standard Bible Encyclopaedia (ISBE),. 1915.
Sometimes being Paul's friend was dangerous!
The third time we read of Trophimus is when he had become too sick to travel. Paul had to leave him in Miletus.
As a side note: IF the miracle gifts had still been ongoing, why didn't Paul just lay hands on his friend so he could continue the mission? Why doesn't the verse say "Trophimus was sick in Miletus but I laid hands on him and by grace of God he used me to heal my friend." Or something to that effect. 2 Timothy was written in 64/65 AD, and the sign gifts were well and truly dying out by then. The were for a sign to authenticate the Apostles and since it was nigh on 30 years since Jesus had departed and at least 20 years since the first NT book was written, the need to authenticate the ministers of God was lessening by the day.
In the previous book, 1 Timothy 5:23 written a few years before, Paul had advised Timothy to take wine for his stomach ailments.
Anyway, Trophimus was sick a few years after we last read of him, we know not with what, but was serious enough to cause Paul to have to leave T. behind. But not alone. We read in Acts 20:17 Paul had previously sent for some elders to come from Ephesus, which they did. It was an easy travel jaunt. Therefore, Paul was not abandoning his trusted friend and traveling companion to the wilds,
"Trophimus, therefore, in his sickness, could easily reach Ephesus, or his friends from that city could quickly come to him at Miletus, and give him whatever attention and nursing he might require." ISBE
Keep in mind that these people we read about in the Bible are real people. They are alive now. We will meet them in heaven and commune with them. We can sit with Trophimus and talk with him about his sickness, his association with Paul at the temple, his missionary journeys. That's why I write about the 'little known' Bible characters. Someday we will fully know them, and they will fully know us. What a day that will be.
Little Known Bible Characters #1: IddoLittle Known Bible Characters #2: The List of Offenders
Republished with permission from Blogs.crossmap.com, featuring inspiring Bible verses about Little Known Bible Characters #3: Trophimus.