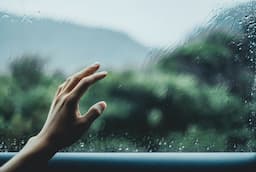 Friend, God protects us every day. Yet often we are unaware. That is, until we come face to face with a storm. For God quieted my anxious heart by revealing His protective care through an illustration with my cat. From this illustration, let's learn 3 ways God protects us during a storm.
The weather forecast predicted intermittent heavy rainfall all day and for the next couple days. Unfortunately, though, the ground was already saturated with puddles from previous rain. 
Well, I noticed my cat sound asleep on a comfortable chair in my neighbor's carport. In order to come home, he must carefully traverse the neighbor's backyard, since it transforms into a muddy swamp after heavy rain. With large puddles beginning to form and more rain on the way, I knew the difficulty he faced. Most likely, he would arrive soaking wet and covered in mud. 
So, I decided to drive over to the neighbor's house to rescue my cat. After safely transporting him home, my cat desired attention by lying in my lap. This led me to wonder, was he thanking me for rescuing him? Perhaps, but more importantly, I realized he felt safe lying in my lap.
After rescuing my cat, I feared I may require rescuing. For where we were living at the time, the drainage is very poor. With a flood watch now in effect and multiple days of heavy rain expected, my fear intensified.
How God Protects Us
1. God Protects by Watching Over Us
Immediately, I sensed the Lord speaking to me through this situation. Just as I am always watching over my cat to protect him, so the Lord watches over me (Psalm 145, 121). 
Psalm 121:7-8 proclaims, "The Lord will keep you from all harm—He will watch over your life; the Lord will watch over your coming and going both now and forevermore" (NIV).
The CSB translation replaces the word "watch" with "protect". It states, "He will protect your life. The Lord will protect your coming and going both now and forever" (Psalm 121:7-8 NIV).
Why does God protect us? Because He loves us even more than we love our pets. We are His beloved children, His treasured possession (1 John 3:1, Titus 2:14, 1 Peter 2:9). What's more, Romans 8:35-39 assures us that absolutely nothing can ever separate us from His love.
Because of God's protective love, we can rest secure in Him. Just like my cat feels safe lying in my lap.
2. God Protects by Upholding Us
During the periods of heavy rainfall, I chose to cling to God, trusting He would protect me. This shifted my focus off of the rain and prevented me from yielding to fear. Overall, though, God knew this illustration with my cat would comfort me and alleviate my fear.
Friend, God knows just what you need before you even ask (Matthew 6:8). He will strengthen you and see you through any storm.
Isaiah 41:10 exhorts, "do not fear, for I am with you; do not be dismayed, for I am your God. I will strengthen you and help you; I will uphold you with My righteous right hand" (NIV).
3. God Protects by Rescuing Us
Despite heavy rain falling for two more days, the water continued draining away from our home. Then on the 3rd day, the forecast changed completely, with less probability of rain and no more flood watch. Just like I rescued my cat, God rescued me.
Plus, this day is Good Friday. The day we recognize Jesus' death on the cross for our sin. Through Jesus' death and resurrection, God rescued us from the slavery of sin and reconciled us back to Himself (Romans 8:2-4, 2 Corinthians 5:18-19).
I certainly had much to be thankful for that day. Not only did God rescue me from the storm, but from my sin as well.
Friend, what situation do you need rescued from? Cry out to the Lord. He hears your cry and is right there with you. Cling to Him and choose to trust His unfailing love. For He is your Deliverer.
Psalm 91:14-15 declares, "Because he holds fast to Me in love, I will deliver him; I will protect him, because he knows My name. When he calls to Me, I will answer him; I will be with him in trouble; I will rescue him and honor him" (ESV).
Father, thank You for Your protection – always watching over us, upholding us and rescuing us. You are our Protector, our Strength, our Deliverer, an ever-present help in time of need. Help us to fix our gaze upon You and trust in Your unfailing love no matter what we may be facing. We love You and desire to give You glory. In Jesus' Name, Amen.
---
Reflecting on God's Protection
What Scriptures can you cling to during a storm?
In what ways has God protected you in the past?
Scripture for Meditation
Psalm 18:2, "The Lord is my rock, my fortress and my deliverer; my God is my rock, in whom I take refuge, my shield and the horn of my salvation, my stronghold" (NIV).
Psalm 145:18-20, "The Lord is near to all who call on Him, to all who call on Him in truth. He fulfills the desires of those who fear Him; He hears their cry and saves them. The Lord watches over all who love Him" (NIV).
Interested in a Scripture printable on God's protective care? Join my newsletter tribe to access this FREE resource along with many others.
Related Posts
Republished with permission from Blogs.crossmap.com, featuring inspiring Bible verses about 3 Ways God Protects Us When Experiencing a Storm.