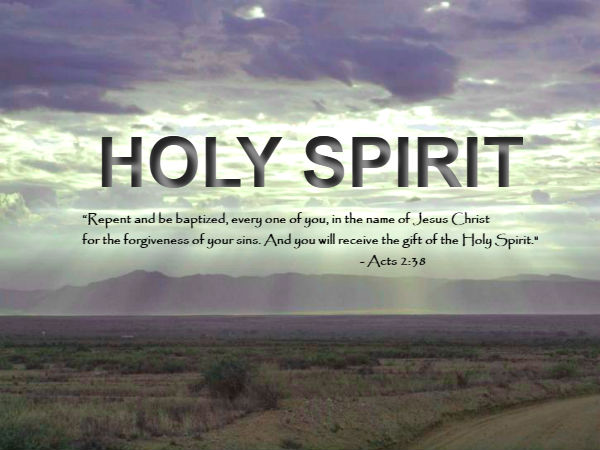 The Bible tells us about baptism of water and baptism of holy spirit. How can we receive baptism of Holy Spirit?
There was a time when I couldn't find the solution for problems in my heart and the thirst in my soul. After many years of wondering, my soul became more thirsty and weary. Since I was born a Christian, I had heard the saying, "receive the Holy Spirit." The question, 'how can I receive baptism of Holy Spirit?' came to me and I longed for the Holy Spirit. God answered my prayer and led me to bible studies with precious leaders at church. It's a true joy and great delight to know the Holy Spirit. May the word of God reveal the meaning of baptism of Holy Spirit and change your life to be filled with Holy Spirit.
I baptize you with water for repentance. But after me comes one who is more powerful than I, whose sandals I am not worthy to carry. He will baptize you with the Holy Spirit and fire.
   – Matthew 3:11 NIV
After his suffering, he presented himself to them and gave many convincing proofs that he was alive. He appeared to them over a period of forty days and spoke about the kingdom of God. On one occasion, while he was eating with them, he gave them this command: "Do not leave Jerusalem, but wait for the gift my Father promised, which you have heard me speak about. For John baptized with water, but in a few days you will be baptized with the Holy Spirit."
   – Acts 1:3-5 NIV
Peter replied, "Repent and be baptized, every one of you, in the name of Jesus Christ for the forgiveness of your sins. And you will receive the gift of the Holy Spirit."
   – Acts 2:38 NIV
Jesus answered, "Very truly I tell you, no one can enter the kingdom of God unless they are born of water and the Spirit.
   – John 3:5 NIV
While Peter was still speaking these words, the Holy Spirit came on all who heard the message. The circumcised believers who had come with Peter were astonished that the gift of the Holy Spirit had been poured out even on Gentiles. For they heard them speaking in tongues[a] and praising God. Then Peter said, "Surely no one can stand in the way of their being baptized with water. They have received the Holy Spirit just as we have." So he ordered that they be baptized in the name of Jesus Christ. Then they asked Peter to stay with them for a few days.
   – Acts 10:44-48 NIV
for all of you who were baptized into Christ have clothed yourselves with Christ.
   – Galatians 3:7 NIV
When the apostles in Jerusalem heard that Samaria had accepted the word of God, they sent Peter and John to Samaria. When they arrived, they prayed for the new believers there that they might receive the Holy Spirit, because the Holy Spirit had not yet come on any of them; they had simply been baptized in the name of the Lord Jesus. Then Peter and John placed their hands on them, and they received the Holy Spirit.
   – Acts 8:14-17 NIV
Paul said, "John's baptism was a baptism of repentance. He told the people to believe in the one coming after him, that is, in Jesus." On hearing this, they were baptized in the name of the Lord Jesus. When Paul placed his hands on them, the Holy Spirit came on them, and they spoke in tongues and prophesied.
   – Acts 19.4-6 NIV
If you then, though you are evil, know how to give good gifts to your children, how much more will your Father in heaven give the Holy Spirit to those who ask him!
   – Luke 11:13 NIV
But when the kindness and love of God our Savior appeared, he saved us, not because of righteous things we had done, but because of his mercy. He saved us through the washing of rebirth and renewal by the Holy Spirit
   – Titus 3:4-5 NIV
Therefore go and make disciples of all nations, baptizing them in the name of the Father and of the Son and of the Holy Spirit,
   – Matthew 28:19 NIV
Then John gave this testimony: "I saw the Spirit come down from heaven as a dove and remain on him. And I myself did not know him, but the one who sent me to baptize with water told me, 'The man on whom you see the Spirit come down and remain is the one who will baptize with the Holy Spirit.
   – John 1:32-33 NIV
Who is it that overcomes the world? Only the one who believes that Jesus is the Son of God. This is the one who came by water and blood—Jesus Christ. He did not come by water only, but by water and blood. And it is the Spirit who testifies, because the Spirit is the truth.
   – 1 John 5:5-6 NIV
By Kelly
Bible Portal Contributor
 © 2016 BIBLEPORTAL.COM 
ALL RIGHTS RESERVED.