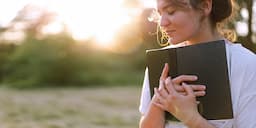 If I were to pick the most helpful app on my smartphone, a few contenders would rise to the top. Email, text, and camera of course—and the GPS system. As a directionally inept person, having a device that can get me to anywhere from anywhere is a dream come true. However, sometimes even GPS isn't all that helpful, like when the kind, robotic voice instructs me to "go south on Second Street." South? If I knew where south was, I wouldn't need GPS! If I had been a pioneer on the Oregon Trail, I may well have ended up in Delaware. Navigation just isn't my thing. But directions don't relate just to a map or compass. During a recent study of Psalm 145, I was surprised to see four clear directions of our praise: up, down, in, and out.
Up: Exalting the King
Psalm 145, a song of corporate praise, begins with a solo. The speaker of the psalm declares, 
I exalt you, my God the King,and bless your name forever and ever. 
While the verbs in this verse may seem to mean the same thing, like poetic synonyms, a deeper look reveals the first two directions of praise. The speaker first says that he will "exalt" the Lord. The dictionary definition of "exalt" is to "raise in rank, power, or character" or to "elevate in praise."1 This English definition corresponds with the meaning of the Hebrew word behind exalt (rum) as well.2 Our praise ought to elevate the character of God, to lift it up, give it the stature and position that it rightly deserves and already possesses.
We can get this wrong in a couple different ways. First, we can fail to lift God and His character high by bringing Him down to our own level. Songs or prayers that neglect God's holiness and transcendence and instead make Him out to be a buddy or a benevolent grandfather actually bring the Holy One down. While it's certainly true that God is near to His children and an ever-present help in the time of trouble, an overemphasis on these attributes leads to a god who is merely made in the image of man, rather than a transcendent King who is totally "other" than His creation. 
A second pitfall in lifting up the name of God is making our praise self-centered. At first, maybe this seems ridiculous. Who would ever do that? However, it's concerning when some Christian songs and personal testimonies are steeped, not in the divine nature and mighty works of a sovereign God, but in self-absorption. Of course, we should revel in how bountifully God has dealt with us, but songs and testimonies of praise in which I am the main character fail to extol God and instead steal the spotlight. 
Praise should lift God up. 
Down: Blessing His Name
In one verse, David goes from lifting up the worthiness of Yahweh to kneeling before Him. Our English word bless doesn't capture the full idea of the Hebrew word barak, which includes the idea of kneeling.3 But in the original language, the poet-king takes us from the rafters to the floorboards in one breath, from hands raised in adoration to knees bent in reverence. 
Praise is not only lifting high the nature and work of God; it's also a posture of the heart. And it's a posture that should take us to our knees. To look up at God and His resplendent glory and unfathomable greatness should take the wind out of our sails. Both the prophet Isaiah and the apostle John give firsthand accounts of this kneeling. 
First, upon seeing the throne room of heaven and the King sitting high and lifted up, adored perpetually by seraphim, Isaiah cries out, "Woe is me for I am ruined!" (Isa. 6:5). John, having a similar vision, responds in nearly identical fashion. He sees the risen Christ in His radiance and splendor and then falls on his face in fear (Rev. 1:12–17). 
Pondering and speaking about who God is should lead me to the humblest and most fearful heart of worship, trembling at the sight of the One who can speak something from nothing, who holds the oceans in the palm of His hand, from whom nothing can be hidden, and in whom all things hold together. 
Praise should bring me down. 
Out: Praising His Name Forever
David continues with his declaration to praise, saying, 
I will bless you every day;I will praise your name forever and ever. (v. 2)
Again, perhaps these two verbs, bless and praise, seem like synonyms. However, lurking just beneath the surface is the third direction of praise. This time it's outward. David now states that he will "praise" the name of God forever. The word here is halal, which has two meanings, both demonstrating the outward direction of praise. First, the word can mean "to shine," like a lamp giving off light (see Job 29:3 and 31:26). Second is the more familiar definition of "to praise or to boast," used well over 100 times in Scripture.4
Whether shining or boasting, halal doesn't keep to itself. Praise to God is not meant to be merely a solitary endeavor. Our praise and worship of Yahweh ought to reach into every pocket of our lives. It's not meant only for Sunday morning. But also on Tuesday in the break room or Wednesday at the chiropractor's office or Friday in the bleachers at a football game. I'm not suggesting that we go about all day every day singing praise songs ad nauseum. Rather, praise ought to emanate from us, flowing forth naturally, like cool water from a spring as we recognize and acknowledge the character of God and His work in our lives.
A heart postured toward praise won't be able to keep the wondrous works of God to itself. We will be bursting at the seams to share the marvelous wonders of an abundantly gracious God with everyone we meet. 
In: Meditating on His Works 
While praise should and must emanate outward, it also has an inward component. David tells us this in verse 5 (NIV) : 
On the glorious splendor of your majesty,and on your wondrous works, I will meditate. 
David's praise is not a show or performance. It is a natural outworking of a relationship with the Almighty, a relationship he clues us into slightly here. David has gotten to know his God by meditating on His works. This word can also mean "to worry." 
Have you ever heard of a "worry stone"? It's a rock you might put in your pocket to rub in moments of anxiety. Imagine, instead of a rock, keeping a wonder of God in the pocket of your mind to worry over from every angle, eventually wearing it smooth, but never wearing it out. Perhaps David did this with his defeat of Goliath or another miraculous deliverance from his enemies. Maybe David carried these miracles with Him, examining God's faithfulness to His people, His strength in the midst of adversity, His victory in the face of defeat. David's praise, which lifted up God, humbled himself, and flowed into others seems to have begun with an inward meditation on who God is and what He has done. 
On what wonders of God do you meditate? Perhaps it's something He's done for you personally or an account from a biblical narrative. Why not pick one today and start "worrying" over it in your mind? Praise will be an inevitable result. 
Friends, praise is much more than a church song with a predictable chord progression. Godward praise is as multifaceted and complex as its object. It's not just something to do, but an attitude to possess and a posture to embrace. 
If this article by Cindy has been helpful to you, would you consider partnering with us to provide more resources like this to women desperately in need of finding freedom, fullness, and fruitfulness in Christ? Revive Partners are part of a team of faithful monthly contributors whose gifts make it possible for Revive Our Hearts to produce biblically rich content for women in every season. (Cindy is a Revive Partner too!) Learn more by visiting ReviveOurHearts.com/partner. 
1 "Exalt Definition & Meaning," Merriam-Webster, accessed October 16, 2023, https://www.merriam-webster.com/dictionary/exalt.
2 "H7311 – Rûm – Strong's Hebrew Lexicon (CSB)," Blue Letter Bible, accessed October 16, 2023, https://www.blueletterbible.org/lexicon/h7311/csb/wlc/0-1/.
3 "H1288 – Bāraḵ – Strong's Hebrew Lexicon (CSB)," Blue Letter Bible, accessed October 16, 2023, https://www.blueletterbible.org/lexicon/h1288/csb/wlc/0-1/. 
4 "H1984 – Hālal – Strong's Hebrew Lexicon (CSB)," Blue Letter Bible, accessed October 16, 2023, https://www.blueletterbible.org/lexicon/h1984/csb/wlc/0-1/.
Republished with permission from Blogs.crossmap.com, featuring inspiring Bible verses about Four Directions of Praise.