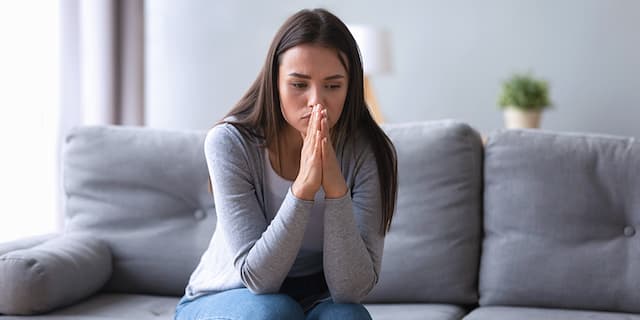 You raise your children in the Lord, and they behave in ways that break your heart. You marry a man who promises to love, honor, and cherish you 'til death do you part, but some days he acts like he loves his job more than you. You join a church—the church—convinced it's a match made in heaven, only to discover it's led by flawed and frail people just like the church you left. Jobs, finances, health, people, and relationships all have the power to disappoint us. 
How should we—believers in Christ—handle the disappointments that hurt our hearts and weary our souls? 
1. Weep. 
God created us with emotions. To deny them is to deny our humanity. Jesus wept over the city that rejected Him. "Jerusalem, Jerusalem, who kills the prophets and stones those who are sent to her. How often I wanted to gather your children together, as a hen gathers her chicks under her wings, but you were not willing!" (Matt. 23:37). 
Jesus experienced many of the same emotions we experience. Isaiah describes Him not as a distant God who is far removed from our pain, but as a "man of sorrows and acquainted with grief" (Isa. 53:3). We can trust Him with our hurt. 
But Jesus isn't only a confidant and a soft shoulder upon which to cry. He's our example for how to handle our disappointment. Scripture describes how, after he wept over Jerusalem, He set His face toward the cross and did what God called Him to do. Tears may be a natural precursor to action, but they're not a substitute for it.
2. Evaluate your expectations. 
When I'm honest with myself, I often discover I feel disappointed because I've set unrealistic expectations. 
Do I assume I'll do everything perfectly the first time? Or expect my husband or friends to meet all my emotional needs? Do I expect my children never to disobey, act childishly, or fail to behave the way I want them to? Do I assume the Christian life will be free from hardship or pain? 
Jesus was frank with His disciples, and His words are meant for us as well. "You will have suffering in this world" (John 16:33). Loving God doesn't shield us from trials. In some ways, it attracts them. Our dual citizenship in this world and the next causes us to long for the perfection of heaven while struggling through on sin-scarred earth. We know we were created for more, better, perfect. But not yet. 
The apostle Paul described our spiritual tug-of-war with these words: 
"I am torn between the two. I long to depart and be with Christ—which is far better—but to remain in the flesh is more necessary for your sake" (Phil. 1:23–24).
God's Word and His Spirit can help us evaluate whether our hopes are unrealistic or naïve. Invite Him to search your heart. Accept what He reveals. Then ask Him to give you the desires He wants you to have.
3. Bring your disappointments to God.
During some of the darkest times of my life, when I was disappointed with myself, others, or God, I found it hard to pray. Instead of running toward God, I ran away from Him. 
When I bring my disappointments to God, I position myself to receive His comfort. Sharing my hurts in prayer, then searching God's Word for His response opens communication between me and the One who knows my heart better than I do. King David models this for us throughout the psalms. In Psalm 42, he beautifully demonstrated how we can speak truth to our soul, even from the depths of our discouragement.
4. Take comfort in God's promises.
He'll never leave us or forsake us (Deut. 31:6). He'll be our advocate (1 John 2:1), our refuge (2 Sam. 22:3), and our strong tower (Prov. 18:10). 
He'll comfort and quiet us (Isaiah 51:12), surround us with His love (Psalm 33:22), and, one day, He'll wipe all the tears from our eyes (Rev. 21:4).
5. Surrender your desires and trust Him.
Jesus, in the garden of Gethsemane, prayed what one author called "the prayer of relinquishment." After He begged God to allow the cup of suffering to pass from Him, He chose to trust God and surrendered His will to the Father. He knew, as Joni Earekson Tada's pastor, Steve Estes once said, "God permits what He hates to accomplish what He loves."1
For me, this type of prayer sounds something like this: "Lord, you know what I hoped would happen in this situation/relationship. As best I can tell, my desires honored you. But I don't know everything you know. I acknowledge that your ways are higher than my ways, and your thoughts higher than my thoughts (Isaiah 55:9). I also know you use the most unlikely means to accomplish the most beautiful ends. Help me trust you, for my good and your glory."
One day, Jesus will triumph over death, hell, and the grave. He'll wipe the disappointed tears from our faces one last time and show us how "our momentary light affliction [produced] for us an absolutely incomparable eternal weight of glory" (2 Cor. 4:17).
Until then, disappointment will be part of our human experience. When we encounter it, it's okay to weep. With God's help, we can prayerfully examine our expectations, take comfort in God's promises, bring our desires to Him, and surrender to His will. 
In our own strength, this is impossible, but with God's help we can do it. Each new disappointment brings another opportunity to trust Him. When we do, He comforts our hearts and grows our faith.
"I have told you these things so that in me you may have peace. You will have suffering in this world. Be courageous! I have conquered the world" (John 16:33).
You've seen the difference Revive Our Hearts has made in the lives of other women. You've soaked in God's Word with Nancy, then taken it home and made it personal. What's Your next step with Revive Our Hearts? It may be time for you to serve. If you're passionate about serving women's ministry leaders and excited about what God is doing through this ministry, becoming a Revive Our Hearts Ambassador might be for you! For more information, visit ReviveOurHearts.com/Ambassadors.
1 Tada, Joni Eareckson. Life in the Balance: Biblical Answers for the Issues of Our Day, accessed at https://www.google.com/books/edition/Life_in_the_Balance/y5kXBQAAQBAJ?hl=en&gbpv=1&bsq=%E2%80%9CGod%20permits%20what%20He%20hates%20to%20accomplish%20what%20He%20loves.%E2%80%9D, Revell, 2014.
Republished with permission from Blogs.crossmap.com, featuring inspiring Bible verses about How Should Christians Handle Disappointment?.