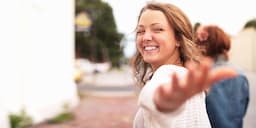 Throughout my childhood numerous phrases spoken by my dad became as woven into the fabric of my growing up-years as the scents of my mom's signature dishes or the blue-and-white decor that graced the shelves. Some were spoken in jest, like "No pain, no gain" (though in reality my dad was quite compassionate when we had injuries and ailments). Others were spoken in a foreign tongue from the various countries he'd spent time in, like "chotto matte kudasai" ("just a moment" in Japanese). But there was one phrase that left an indelible mark on my life—one my dad used before company came, when we were walking through an airport, or visiting churches that supported us as missionaries.
"Remember to be a blessing." 
This phrase encapsulated so much meaning for us as kids. Because of the daily discipleship we received, we had a biblical framework helping us grasp the what and why behind those words. We were taught that, as it says in Ephesians 1:3, in Christ we've been "blessed with every spiritual blessing," and that this eternal, spiritual reality should be evident in our attitudes, words, and deeds. Now, as a parent myself, I use this phrase regularly with my children. I long for them to comprehend the privilege of living in a way that glorifies the Lord by displaying His love to those around us. 
It would be impossible to share everything we understood "Be a blessing" to mean. However, I'd love to share a few of the big picture ideas that immediately came to our minds when we were given this reminder and what my husband and I hope our kids remember as they hear this phrase too.
Turn Outward
We were constantly encouraged to consider others ahead of ourselves, based on verses like Philippians 2:3–4,
Do nothing out of selfish ambition or conceit, but in humility consider others as more important than yourselves. Everyone should look not to his own interests, but rather to the interests of others.
The passage goes on to say that this was the example set for us by Christ Himself. In a similar vein, Mark 10:45 says, "For even the Son of Man did not come to be served, but to serve, and to give his life as a ransomfor many." As followers of Jesus, we too are called to this beautiful, Spirit-empowered way of life.
When I was freshman in high school we were in the United States on furlough from our overseas home, and I found myself retreating inward more and more as the weeks went by. I couldn't seem to break free from feelings of paralyzing insecurity I had begun to experience when in large groups of teenagers or adults. Since I'm naturally bubbly (even though I have a shy streak) others began to notice my withdrawn demeanor. My parents sat me down and asked what was going on, and I told them about my struggle. 
After hearing me out, my dad said, "I bet there are others there who feel just like you do—maybe more so. Why don't you ask Jesus to help you treat others as you'd like to be treated?" The lightbulb went on. I discovered that when I asked God to give me the grace to consider others ahead of myself, things began to change. To this day, whenever I find myself retreating inward, I remember this encouragement and rediscover just how life-giving it is to follow the example of Jesus by considering others ahead of myself. When we do, He takes care of us too.
In conversation, my siblings and I were regularly encouraged to be warm, answer questions, and ask questions in return. When we were in stores or restaurants, we were reminded to be observant of others and act accordingly, considering the level of our voices and where we walked. When others came into our home, we'd been instructed on ways to help them feel welcome. Our birthday parties were often quite large because we'd been exhorted to include anyone who may feel on the fringes of our circle as well as those who we were close to. Our parents actively trained our eyes and ears to be alert for ways we could consider others in all kinds of contexts, both reactive (in our responses to others) and proactive (in our initiation of interaction). We were by no means perfect, but we were given a spiritual tool belt filled with ways we could seek to put others ahead of ourselves that helps us to this day.
Be Grateful and Generous
Generosity and gratitude went hand-in-hand in our home, and I believe they go hand-in-hand in Scripture too. They were displayed through the example of my parents, who were constantly giving of their time, energy, and resources. And when any blessing came to us, they were quick to recognize it and give thanks to the Lord and to those who the blessing came through. 
The principle behind this can be found in places like 2 Corinthians 9:6–8:
The person who sows sparingly will also reap sparingly, and the person who sows generously will also reap generously. Each person should do as he has decided in his heart—not reluctantly or out of compulsion, since God loves a cheerful giver. And God is able to make every grace overflow to you, so that in every way, always having everything you need, you may excel in every good work.
When we have hearts full of gratitude to the Lord for who He is and all He's done for us through Christ, we should necessarily overflow with love and generosity toward those around us. In short, grateful people are giving people.
If we had cultivated a talent, we were encouraged to ask, "How can I use this to serve others?" If we had resources of some kind, we were taught to consider, "Might God want me to spend this to bless someone else?" In the use of our time, the attitude cultivated in our home was, "Is there some opportunity to encourage another right now or in the near future?"
On the gratitude front, we were constantly reminded to verbally offer thanks when we'd been served in some way, large or small. Thanksgiving to God was modeled daily through prayer. My parents understood that true gratitude is a discipline that must be actively tended to in order to flourish. 
I can say with all sincerity that both my husband and I were given the gift of parents who are truly some of the most grateful and generous people we've ever known. It is a stunning way to live, and a torch we want to pass on to the next generation. 
Speak Encouragement 
From early childhood we had the tradition of what we affectionately (and humorously) termed "Saying Nice Things" to a family member on their birthday. There were clear parameters around what we could and couldn't say; it had to be genuine encouragement to build up the one being celebrated. This practice set the stage for incorporating it beyond birthdays into everyday life. It made normal what can often be a rather awkward thing—voicing what we see and appreciate in another, or stepping out to offer some kind of word that spurs them on toward greater love and devotion to Christ. 
We're commanded in Scripture to practice this form of blessing with our spiritual brothers and sisters (1 Thess. 5:11). When we encourage one another in the Word of God, it's even more powerful: "But encourage each other daily, while it is still called today, so that none of you is hardened by sin's deception" (Heb 3:13, emphasis added).
Not only should words of encouragement be toward fellow believers but also toward those who aren't in the faith—even toward those who don't think highly of us, as in Romans 12:14: "Bless those who persecute you; bless and do not curse." 
The word for bless used here means to intentionally speak praise over someone or pray for their good. Encouragement and blessing should overflow from our hearts to those around us, Christians and non-Christians alike. 
Lord, Make Me Like You
There was a song that became very special to my family—one we'd often sing together when my parents were invited to share about their missionary work overseas. The lyrics were simple:
Lord, make me like you,Please make me like you.You are a servant,Make me one, too.Oh Lord, I am willing,Do what you must do,To make me like you, Lord,Please make me like you.1
As we consider how God might want to use us as a blessing in this world and how to disciple our children to be a blessing, may we begin with this as our prayer: Lord, make me like You, the One from whom all blessings flow.  
November is here, and Heather's post has done a great job of turning our eyes and our hearts toward God and others out of gratitude for who He is and all He's done. Need an extra infusion of thankfulness this month? Nancy DeMoss Wolgemuth's book Choosing Gratitude: Your Journey to Joy will show you that true gratitude is not an incidental ingredient in the Christian's life—it's a crucial one. Order your copy from the Revive Our Hearts store, and you'll also be supporting the work of helping women thrive in Christ. 
1 "Make Me like You," Heritage Singers, accessed October 26, 2023, https://heritagesingers.com/track/461322/make-me-like-you.
Republished with permission from Blogs.crossmap.com, featuring inspiring Bible verses about Remember to Be a Blessing.