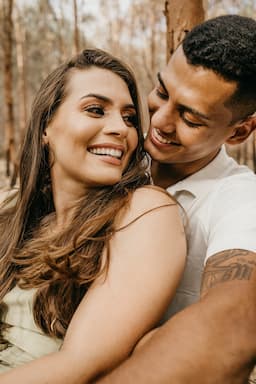 Some men are very concerned about women not being able to pair bond with their husbands because of the women's sexual histories. I believe this is a legitimate concern. Let me tell you another legitimate concern I have.
Not only is it a concern as to whether women will pair bond with their husbands. I'm concerned about the same for men, pair bonding with their wives. Will husbands be able to bond and attach correctly to their wives after promiscuous pasts? Yet, it has been widely accepted that many men just don't bond the same way women do.
Some women are told that men are mechanical beings, especially when it comes to sex. They are told that women shouldn't expect much emotional investment from men.
Not everyone goes by this or believes this. But if certain men are not bonding, how can they expect women to bond? Is it a one-way street? It is a concern that women may not pair bond, but women should be okay with it when the men do not emotionally invest and bond with them?
I see a problem with this. Women have typically attached to men emotionally, whether the man emotionally attached to them or not. Women reportedly produce more oxytocin [1], the bonding hormone, than men do- including during sexual intimacy.
This is another reason why it's important to only have sexual intimacy with one's spouse. Oxytocin has a bonding effect. Many men have bragged about non-attached sex. Apparently, women were supposed to be okay with it?
Being monogamous is a choice. Being married, in love and having sex is far different than mechanical sexual hookups. If someone practices promiscuity before marriage, it is likely they will keep that same mindset and pattern after marriage.
Yet, people can change, and many do change. It depends on the individual, whether or not they will change from promiscuity to monogamy.
Now that some women are disengaging emotionally from the men in their lives because many have dated, had sex with or even married emotionally unavailable men, some are concerned that some women aren't pair bonding. This concern should have gone both ways from the beginning.
Although sex and love are two completely different things, God intended for people who are married and love each other to be the ones having sex. Women have been innately aware of the fact that people in love should be the ones having sex. Consequently, plenty ladies have confused sex and love.
Sex has often been corrupted and perverted, being turned into a game of power, sadism and a type of Russian Roulette with people's health. Sex has been tainted because satan corrupts, perverts, and distorts the good things that God creates.
Both concerns for men being capable of pair bonding and women being able to pair bond are legitimate. Wives deserve husbands who are emotionally invested in them and attached, as much as husbands deserve wives that are emotionally invested in and attached to them.
This is just confirmation that God's ways are always best. God did not intend for men and women to sleep around with many, many people, develop soul ties with them and then not be able to attach to their spouses. Fortunately, people can repent from their pasts.
They should repent from their pasts, especially if they want to be pleasing to God. There are people who meet the right ones and they change their ways for the better, inspired by love.
They fall in love with the person that they are meant to be with and it is a game changer. I truly believe this. I have also seen this. No one is perfect. No one has a sinless past. Many of us have committed some of the same sins, some of us have committed some different sins.
When we confess our faults to God and repent, the blood of Jesus washes us clean from our sins. Once we are washed clean, we are washed clean. There is no condemnation.
Couples should be honest with each other about their pasts. It is wise and helpful to go to a healthcare clinic and get checked for diseases and infections if someone has been sexually active. This should be done for the sake of transparency and to be considerate and caring of the other person.
Supporting Bible Verses:
"Nevertheless, to avoid fornication, let every man have his own wife, and let every woman have her own husband." 1 Corinthians 7:2
It is important to remember that we CANNOT overcome sexual sin or any other kind of sin in our own strength. We need the power of God to transform and empower us to live righteously. Those who are born again are children of God and have the Holy Spirit to empower them to live holy lives.
"Therefore, dear brothers and sisters, you have no obligation to do what your sinful nature urges you to do.For if you live by its dictates, you will die. But if through the power of the Spirit you put to death the deeds of your sinful nature, you will live. For all who are led by the Spirit of God are children of God." Romans 8: 12-13
[1] WebMD, "What To Know About Oxytocin Hormone"
https://www.webmd.com/sex-relationships/what-to-know-about-oxytocin
Republished with permission from Blogs.crossmap.com, featuring inspiring Bible verses about The Pair Bonding Problem- Not Just A Woman's Problem.