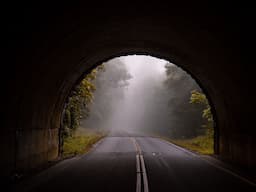 My generation, Gen Z, is known for moving around a lot. If we don't like a job, we leave. According to an article from Business Insider, "70% of Gen Zers who say they're 'loyal' to their employers are either actively or passively seeking a new job." The article goes on to say that many Gen Zers will leave jobs that are unfulfilling without having a backup plan.
While I love that Gen Z values doing something meaningful and fulfilling, I think there is a balance between looking to the next "big" thing and finding contentment in the present. The job-hopping mentality can train our minds to not find contentment or look for the good in hard places.
I'm not saying that discontentment, burnout, and feeling stuck in a job are not real. Instead of looking for the next big thing or looking for a way out, we should pray, notice what God is teaching us, and strive to find contentment in God alone.
James 1:2-4 says, "Count it all joy, my brothers, when you meet trials of various kinds, for you know that the testing of your faith produces steadfastness. And let steadfastness have its full effect that you may be perfect and complete, lacking in nothing."
Romans 5:3-5 says, "… but we rejoice in our sufferings, knowing that suffering produces endurance, and endurance produces character, and character produces hope, and hope does not put us to shame, because God's love has been poured into our hearts through the Holy Spirit who has given to us."
True contentment is found outside our circumstances. These two verses show that suffering shapes our character to become more like Christ—producing steadfastness, endurance, and hope.
This is something I had to learn. My first job out of college was as a copywriter for a marketing firm. The longer I stayed at my job, the more I realized that it wasn't what I wanted to do long-term. I realized that I didn't like marketing for law firms, insurance companies, and other clients. I didn't like the cut-throat environment. Every night, I dreaded going to work. I felt anxious, unequipped, unfulfilled, and worried that I was going to look back five years down the road and still be stuck in the same place.
Now, I look back with gratitude for what God did in my life. It's because of the experiences and things I learned from that job that I was equipped to apply for a copywriter position at YouVersion.
If I had not gained that experience, learned how to work with clients, and worked really hard to learn skills about copywriting and marketing, I probably wouldn't have gotten the job I have now.
I learned a lot of skills that I wouldn't have learned otherwise if I hadn't stayed in that hard place. In that hard place, I asked God for wisdom and guidance even when my circumstances weren't what I wanted.
While society encourages us to look to the next big thing, I want to encourage you to look where you are now. Whether you're content or looking for something else, take the time to ask God these questions:
What are you teaching me?
How can I glorify you in these moments of discontentment?
How can I see the big picture of how you're moving in my life?
If you're somewhere you don't want to be, whether that's a job, city, or situation, that doesn't mean that God can't use it.
Instead of looking to the next big thing, look at what God is teaching you and trust, even in moments where you're tempted to focus on your discontentment, that God is using this to equip you for the next one. We are so quick to change our circumstances if we're not satisfied with them. Because of this, we can lose sight of what God is teaching us. Remember that God is the place where we can find true, eternal satisfaction and contentment.
Kali Gibson is the editor-in-chief for So We Speak and a copywriter for the Youversion Bible App.
Republished with permission from Blogs.crossmap.com, featuring inspiring Bible verses about "What's the Next Best Thing?".