This thought-provoking episode of "Compared to Who?" explains the connections between being a good "steward" of our money and the stewardship of our bodies. Looking at Matthew 6, Heather answers a listener's question: How can I know what it means to be a good steward of my body when it's so easy to believe diet culture's definition of health and stewardship?
Here are three key takeaways from the episode:
1️⃣ We can learn to focus on eternal investments: The passage in Matthew 6 reminds us that our focus should be on seeking God's kingdom and righteousness first rather than getting caught up in worrying about material possessions. Investing in things that will last for eternity is more valuable than earthly wealth. This applies to our bodies. They will die one day. So, how do we invest them well, here on earth, without getting caught up in trying to make them last (or avoid aging) forever?
2️⃣ Stewardship of our bodies may not be as complicated as we've made it to be. While the Bible doesn't specifically lay out rules for taking care of our physical bodies, we can extrapolate from scripture that we are to care for them as we are to care for other good gifts God gives us. But this doesn't mean prioritizing health, fitness, weight, or beauty goals, above the pursuit of godliness and holiness.
3️⃣ Beware of misplaced priorities: If at any time "stewarding" our bodies leads us to shift our focus away from God and his eternal purpose or keeps us tied to earthly priorities and agendas, we can be pretty sure that we're no longer stewarding but idolizing. Stewardship will never requires us to make our bodies a priority over loving God and others or pursuing God's purpose and plan for our lives. In other words, if you're too busy "stewarding" your body to have time to use your spiritual gifts, then you're no longer stewarding it well. 
Listen to Heather's previous episode about money and body image connection here: Money, Body Image, Stewardship, Hoarding and All the Connections 
Ready to learn more about the Body Image Freedom Framework Online Course and Coaching Program? Learn more here: https://www.improvebodyimage.com/christian-body-image-course-coaching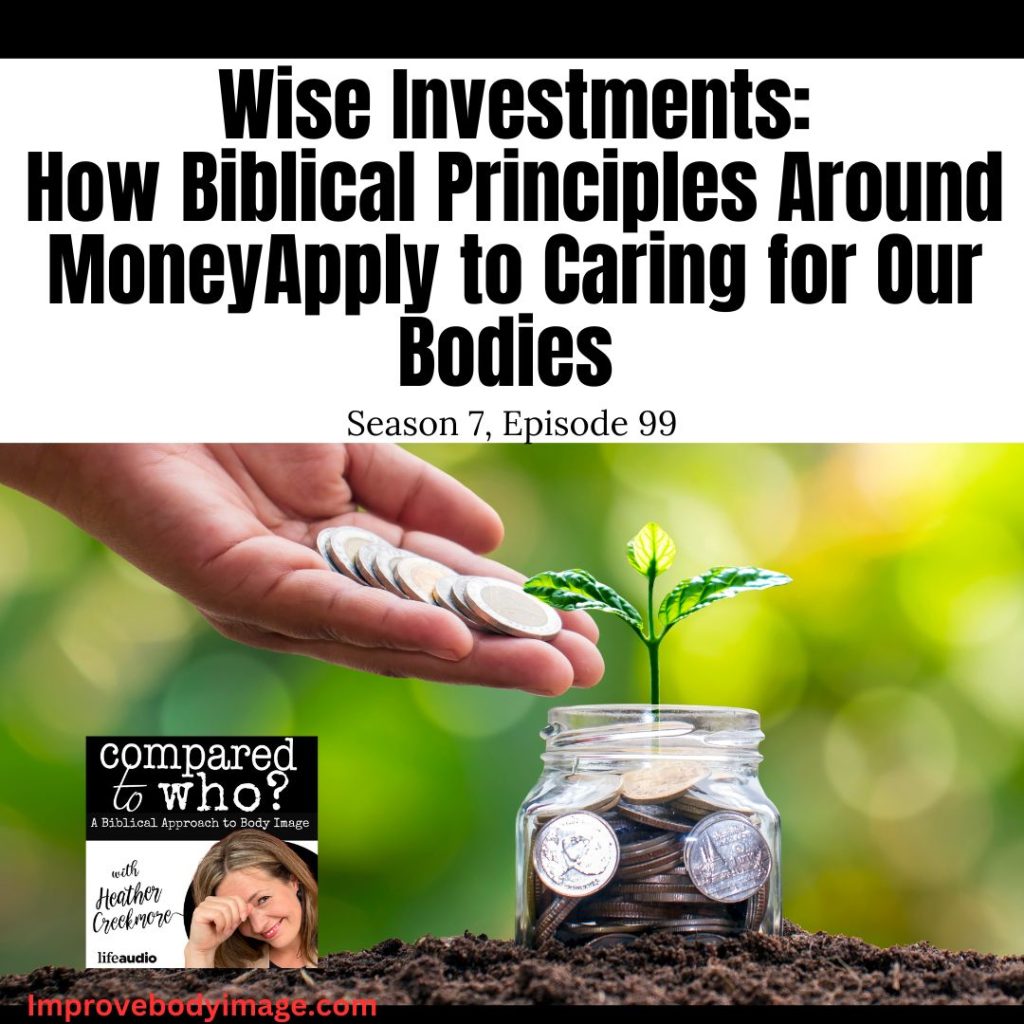 Republished with permission from Blogs.crossmap.com, featuring inspiring Bible verses about Wise Investments: How Money Stewardship Connects to Body Stewardship.