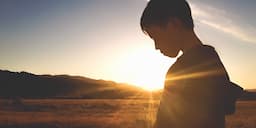 Our family has a motto: "All five to keep him alive." Ezra is the reason that motto exists. The baby of four brothers, Ezra was born without a risk regulator. He was not quite two the first time he ran away from home. We found him in a neighbor's field, riding his red plastic motorcycle. He was unharmed, but as his momma I'm fairly certain that day shaved a few years off my life. "All five to keep him alive" is our way of acknowledging that "we've got to keep an eye on that one." If there's a tree, he wants to climb it. If there's a rock, he wants to throw it. If there's an adventure to be had, he wants to have it. Ezra is boyhood embodied. 
Not all of our sons are this drawn to danger (thank you, Jesus!), but I pray that all of them realize that following Jesus is the grand adventure their hearts were made to crave. I believe that there is something inside every man, and therefore something inside every boy, that longs to push past self-centered living and give their lives to something bigger. One of the greatest challenges of being a boy mom is fighting the temptation to envelop my sons in perpetual Bubble Wrap and instead accept the hard-to-swallow truth that my boys were made for more than safe. 
Consider John the Baptist. He certainly would have given his momma a few gray hairs if she hadn't so many already when he was born (Luke 1:7). Consider his words found in John 3:30–36 (NIV):
"He must increase, but I must decrease."

He who comes from above is above all. He who is of the earth belongs to the earth and speaks in an earthly way. He who comes from heaven is above all. He bears witness to what he has seen and heard, yet no one receives his testimony. Whoever receives his testimony sets his seal to this, that God is true. For he whom God has sent utters the words of God, for he gives the Spirit without measure. The Father loves the Son and has given all things into his hand. Whoever believes in the Son has eternal life; whoever does not obey the Son shall not see life, but the wrath of God remains on him.
John didn't live a safe life. He saw the Savior and chose to follow Him no matter the cost. We don't know if his aged parents lived to see the son they'd longed for give his life for the sake of Christ, but if they did, they surely felt the fear and sorrow of watching him suffer, mixed with the joy of knowing their boy had chosen the better portion. 
"Who Said Anything about Safe?" 
God has hard-wired you to care for your son by seeking to protect him from harm and He has called you to teach your son that living for Jesus will cost him. It's good for you to teach him not to run in the road or to play with sharp objects (or to ride too far on his red motorcycle). But we must also teach our sons that whatever it costs them to follow Jesus, they should pay it—because He is worthy. 
This is what John meant when he said, "He who comes from above is above all. He who is of the earth belongs to the earth and speaks in an earthly way. He who comes from heaven is above all" (John 3:31 NIV). 
Your son's very existence is meant to proclaim who Jesus is. I'll say it again, he was made for more than safe. 
This is what the apostle Paul (another boy who probably gave his mom a gray hair or two) described in Colossians 3:1–4 (NIV).
If then you have been raised with Christ, seek the things that are above, where Christ is, seated at the right hand of God. Set your minds on things that are above, not on things that are on earth. For you have died, and your life is hidden with Christ in God. When Christ who is your life appears, then you also will appear with him in glory.
Death is risky and yet, that's how Paul described the Christian life. Because of grace, your son need not face the penalty of death for his sin. Instead, God's Word calls him to offer a daily death of laying down his own rights and desires to pick up the life God has for Him. God also calls you to die to your dream of a safe and easy life for your boy and to surrender fully to God's plans for his life, whatever they may be.
Do I want my boys to be safe? Of course I do. But to embrace God's Truth and to help my sons do the same means to encourage them to obey—even when it's costly. They won't do this naturally. Radical obedience must be learned. You are among those God has appointed to teach the surrendered life to your son. In addition to slathering him with sunscreen in the summer heat and giving him vitamins during cold and flu season, are you encouraging your son to obey Jesus even when it requires risk? Does he understand what C.S. Lewis wrote about Aslan is also true of his Savior?
"Aslan is a lion, the Lion, the great Lion." 

"Ooh" said Susan. "I'd thought he was a man. Is he-quite safe? I shall feel rather nervous about meeting a lion." . . . 

"Safe?" said Mr Beaver "Who said anything about safe?'Course he isn't safe. But he's good. He's the King, I tell you."1 —The Lion, the Witch and the Wardrobe (emphasis mine)
Sometimes risky obedience means pushing past the awkwardness of inviting the new kid at school to come to youth group. Sometimes it means missing Sunday practices knowing it will cost playing time. Sometimes it means owning up to sin in a way that is embarrassing. But we cannot expect our boys to pay the price to follow Christ in a culture that is increasingly hostile toward Jesus if they don't have any practice in paying a price now.
Teach Him to Pay the Price
I wonder: have you unintentionally communicated that the Christian life is about going to church on Sunday and reading a few Bible verses before bed? Because the Bible makes it clear that it's a call to die. Have you let your own fears for your child prevent you from taking risks to build the kingdom? 
There isn't a roll of Bubble Wrap big enough to protect your boy from every dart the enemy will hurl at him. While it's true that the Christian life is not without risk, there is not a more worthwhile cause for your son to give his life to than the cause of Christ. It will cost him. It will cost you. Jesus is worth it. Does your boy know that?
The next time your protective instincts make you want to nudge your son toward the easy path, run to God's Word. Flip to Matthew 25 and picture the moment when your son will stand face to face with Jesus. Imagine the boy you adore standing before the Lord to give an account for the life he has lived. A life lived for safety and security will burn up. But every risk he's ever taken in Jesus' name, every moment he's lived for something more than his own comfort will be placed on his head as an imperishable crown (1 Cor. 9:24–25). 
You won't wish you'd kept him secure in Bubble Wrap or that he'd never taken a risk to make Jesus' name known. Your heart will swell with gratitude for every step taken in obedience as you hear your Savior say these words about your son. 
"Well done, good and faithful servant. You have been faithful over a little; I will set you over much. Enter into the joy of your master." (Matthew 25:23)
This blog post is based on Erin's latest book, Lies Boys Believe: And the Epic Quest for Truth co-written with her husband, Jason. Pick up the book for the boy in your life along with A Parent's Guide to Lies Boys Believe, and learn to stand for Truth together. When you make a donation to Revive Our Hearts today, we'd love to send you a copy as our way of saying thanks for your support. 
1 C. S. Lewis, The Lion, the Witch, and the Wardrobe (New York: Scholastic Inc., 1978), 79–80.
Republished with permission from Blogs.crossmap.com, featuring inspiring Bible verses about You Can't Bubble Wrap Your Boy: And That's a Good Thing!.